About Stafford
Stafford is a 100% employee-owned, full-service commercial real estate firm serving the Southeast. From our employees to our tenants, to our clients, to those who live in the communities where we develop properties, our purpose is to improve people's lives and the communities where they live. Our success is built on our company's core values- entrepreneurial spirit, work-life balance, doing the right thing, respect, and valuing our team.
MAKING TIFTON HOME
The founder of Stafford Development, DeNean Stafford, Jr., was born on August 14, 1914 in Seneca, Missouri, to DeNean Stafford, Sr. and Delphine Porter Stafford. "My father was trying to be successful, so with each move, he bought a bigger bank, " DeNean said. "I lived all over the country before I was in high school." In 1928, the depression caused Stafford, Sr. to lose everything he had accumulated. His father's loss forever embedded in his memory, DeNean was determined to diversify his businesses.
DeNean Stafford, Jr. decided to move to Tifton, Georgia in 1947 and use his $18,000 in savings to open his first business venture, Stafford-Johnson Motors, selling Studebaker cars and trucks and Case farm equipment. "It has an excellent business climate and quality of life. Tift, the founder of Tifton, got the town off to a good start. It is a better town than the average town anywhere around because of its foundation. Also, I like South Georgia, and it's as South Georgia as Baxley and Waycross, where I was raised," DeNean said of his move.
On July 26, 1947, DeNean Stafford, Jr. and Flora C. "Boo" Stafford were married, and later had three children: Mary Jane Theden, Sally Perez and DeNean Stafford, III.
MIXING BUSINESS & POLITICS
In 1949, DeNean acquired the Lincoln-Mercury dealership. Then, in 1951, he purchased the John Deere dealership. In 1956, he and other friends purchased the old Cohen Department Store on Main Street. The Oldsmobile dealership was acquired in 1958.
In the 1950's, DeNean served as president of the Tift County Chamber of Commerce, and is credited with giving it a tremendous boost with his fundraising efforts. He created the now-coveted annual "Stafford" award, honoring a member of the chamber who has contributed to the community in a significant way.
After assisting in friends' election campaigns, Stafford decided to jump into politics himself, and, in 1958, was elected State Senator representing the 49th District of Georgia.
The next major change in DeNean Stafford, Jr.'s business affairs occurred when Interstate 75 came through Tifton in the 1950's as "the first four miles built anywhere in the United States." He was instrumental in helping Tifton acquire six exits along the interstate, now developed with motels, restaurants, service stations and many other businesses that boost the area's economy.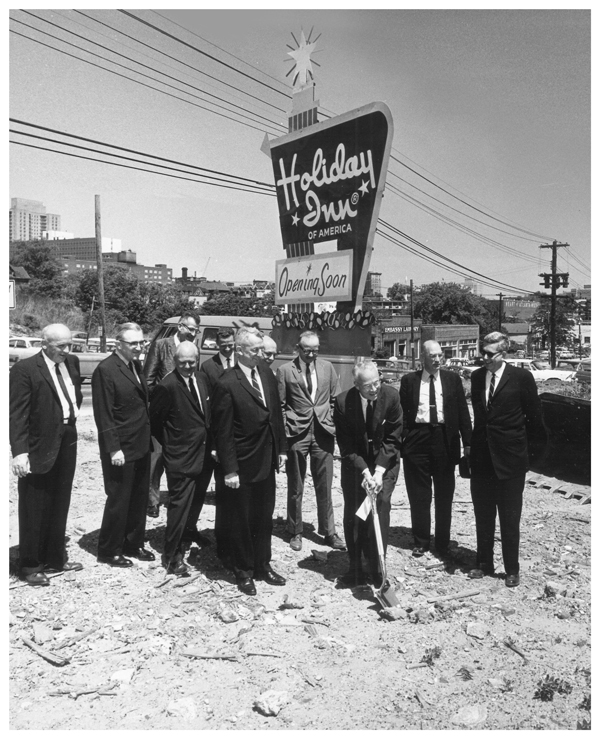 ENTERING THE HOSPITALITY BUSINESS
After meeting Kemmons Wilson, the founder of Holiday Inn, DeNean Stafford, Jr., entered the hotel business in 1960, with the development of two Atlanta Holiday Inns: one downtown on Cain Street and one off Howell Mill Road. In the mid 1960's, he expanded his hotel portfolio with another Holiday Inn in Tifton, Georgia and a Ramada Inn in Valdosta, Georgia.
Also in the 1960's, the corporate officers of the Life Insurance Company of Georgia decided they'd like to build a hotel adjacent to their Life of Georgia Tower in Atlanta, and approached DeNean Stafford, Jr. about developing and leasing the property. In 1969, Mr. Stafford established Center Investments, Ltd. to build and lease the hotel to Stouffer Foods Corporation on property leased from the Life Insurance Company of Georgia. When the hotel opened in the fall of 1972, it was the largest in the country, with just over 500 rooms, and the largest conference center in Atlanta. In 1976, realizing they'd have to refurbish the hotel, as new competing hotels were entering the Atlanta market, Stouffer's gave notice that they were planning to terminate their lease in one year. Mr. Stafford arranged a new contract with Sheraton, beginning in 1977. The new Sheraton-Atlanta Hotel was refurbished, top to bottom, and sales increased through the early 1980s, when operating expenses started to rise and profits decreased. The partnership sold the property to EHP, Inc. in 1984, and it was rebranded as the Pierremont Plaza Hotel. In 1986, Center Investments filed foreclosure papers and took over the hotel in 1987 and renovated again. In 1990, the hotel was sold to F-S Hotel Associates, and today operates as the Crowne Plaza. From start to finish, the partners invested $2,620,000 in the hotel, and had $10,025,923 returned to them, making it a highly profitable investment in the long run.
THE STAFFORD TRUST
In 1971, Denean Stafford, Jr. created The Stafford Trust, and named his grandchildren as beneficiaries. Through the trust, he also provided for the needs of wife's parents and siblings as well as his siblings. Each of these people received $200 per month for thirty years, either from Mr. Stafford's personal account or the trust account.
The Stafford Trust shows not only Mr. Stafford's concern for his family, but also his ability to see light years ahead of others. When the trust was created in 1971, his children were still in high school and college. It would be fourteen years before his first grandchild was born, but that grandchild and all his others would benefit from his generosity and foresight. The tax law changed years before his first grandchild was born, but The Stafford Trust was allowed, since it had already been established and approved by the IRS.
STAFFORD DEVELOPMENT COMPANY
The history of Stafford Development Company began with the incorporation of Interstate Inns, Inc. in 1963, formed to build and operate the Holiday Inn in Tifton, GA. Two inactive companies, Reliable Tractor Company and Motor Discount Company were merged into Interstate Inns on May 25, 1973, and became Stafford Development Company on that date. From these early days Mr. Stafford continued to venture into various partnerships that have continued for over 50 years now.
For example in the 1970's, Stafford Development Company acquired four apartment complexes with Charlie Williams, Sr. in Rome, Georgia; and, between 1979 and 1990, acquired five with Nathan Metzger, for a total of 1,501 rental units. To date Stafford still has ownership in three apartment complexes with Metzger & Company.
STAFFORD FOODS, INC.
In 1976, DeNean was approached by John Wold about investing in Wendy's fast food restaurants. They formed a corporation, Wold-Stafford, Inc, with The Stafford Trust owning 75% and John Wold owning the remaining 25%, and acquired a new Wendy's franchise for Tifton, Georgia. After success in Tifton, they opened another Wendy's in Americus, Georgia and they sought to expand further. After talking to South Georgia Foods, Inc. about a merger to acquire more Wendy's locations, Wold-Stafford, Inc. bought out John Wold's share of the company and decided not to merge with South Georgia Foods. On July 12, 1978, Wold-Stafford, Inc. officially changed its name to Stafford Foods, Inc.
The company expanded with more Georgia locations in Cordele, Moultrie and Douglas, and Fitzgerald. In 1986, Mr. Stafford was presented the Wendy's Award, Wendy's International's most prestigious award. Four stores in the southern region were initially selected, with the Wendy's store in Americus, Georgia being one of them. On December 15, 1986, the store was announced as the Winner of the 1986 National SPARC to Excellence contest, based on timely service, outstanding quality of product and proper staffing, as observed by officers of Wendy's International, Inc. on unannounced visits.
STAFFORD PROPERTIES, INC.
The origins of Stafford Properties began all the way back to the 60's when Mr. Stafford developed several Piggly Wiggly grocery stores in South Georgia. From there he continued on with development and acquisitions with Waffle Houses, various other small restaurant concepts such as Omelet Shoppe, Stuckey's, King & Queen, etc, Amaco and Phillip 66 gas stations, local department stores, a Ryder truck rental facility and even a rock quarry.
Upon the development and acquisitions of two office buildings and eight shopping centers by Stafford Development Company DeNean Stafford, Jr. felt the time was right to create an entity to manage all the properties and develop new projects. Stafford Properties, Inc. was incorporated on September 18, 1992.
In the early 2000's Stafford continued its growth with build to suit opportunities with Staples and Advance Auto and over 500,000 sq. ft. of retail development in the South Carolina Low Country in cooperation with Dave Oliver.
Stafford Properties is now a full-service real estate company, specializing in the development, operation and management of neighborhood centers throughout the southeastern United States. Their services include development, leasing, third party management and tenant representation.
THE STAFFORD FOUNDATION
Over the fifty years Mr. Stafford lived in Tift County, he left an indelible mark on the history of the county. The proximity of Interstate Highway I-75 around Tifton and the development of the business community were but two of his contributions to the county. Still, he wanted to leave something behind that would continue to serve the Tift area after he was gone. He took the things that he treasured and brought them together to form a continuing gift to Tifton. In 1996, DeNean and Boo Stafford created the Stafford Foundation to support and benefit Abraham Baldwin Agricultural College Foundation, Inc. and other charitable organizations in the Tift County area.
The Stafford Foundation provided financial support to Abraham Baldwin Agricultural College, in appreciation of the opportunities they provide for the young people in the community, as well as the financial strength they bring to the area. The Foundation also makes finances available to bring music and the arts to Tifton, giving the residents of South Georgia opportunities to enjoy the art and cultural opportunities that are available in larger cities.
STAFFORD HOSPITALITY, INC.
Stafford Hospitality, Inc. was incorporated on October 16, 2000, for the purpose of managing motels owned by Stafford. Since inception Stafford has developed, acquired and disposed of over 1,000 rooms associated with Hilton, IHG, Wyndham, Choice and Best Western in Georgia, Florida and South Carolina.
DeNean Stafford, Jr.'s wife, Boo, contributed to the success of Stafford Hospitality, as a long-time hostess at the family's Holiday Inn in Tifton, Georgia. In 2003, Gene Rhodes, guest/author wrote in an article about his visit to the hotel, "If you have never been there (Holiday Inn-Tifton), then you should go and go soon because one of Georgia's protected species that is on its endangered list…a local and state treasure…is there: Boo Stafford! This lady of some 85 years – erect in stature, gracious on meeting, sharp and entertaining in conversation, beautiful to the eye, a model in wearing apparel, the co-owner for 39 years – will put a smile on your face and etch a memory in your mind."
THE STAFFORD SCHOOL OF BUSINESS
In 2012, Abraham Baldwin Agricultural College recognized the lifelong contributions of DeNean Stafford, Jr. and honored the Stafford family, by naming the ABAC business school The Stafford School of Business. DeNean Stafford, Jr. established the Stafford Foundation to support ABAC, and was involved in numerous philanthropic events and fundraising efforts for the school. Today, the Stafford family continues to be involved with ABAC, sharing their success stories with students and offering advice, encouraging their success as they enter today's challenging, complex world.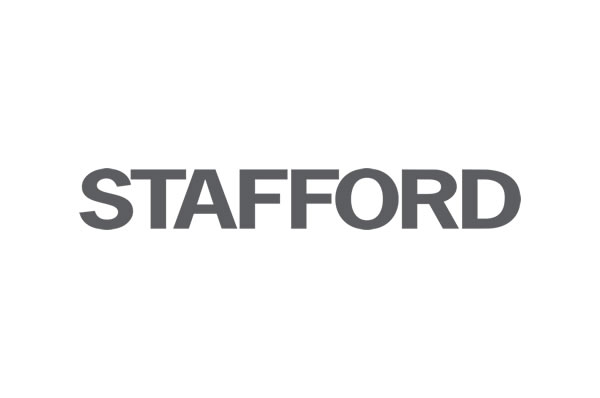 Building on the Past, Developing for the Future
In 2016, Stafford transformed from a family owned company to a 100% employee-owned ESOP. The company consolidated its focus to retail and hospitality and adopted a new tagline, "Building on the Past, Developing for the Future". This statement encompasses our commitment to honoring the entrepreneurial spirit of our founder and building on the foundation created by the Stafford family.
Stafford celebrates 75 years of improving people's lives and the communities where they live
Our vision for the future of Stafford builds on the same foundational principals that led to the first 75 years of success. We owe gratitude to our exceptional team members who continue to uphold our past while moving us forward — together with our tenants, clients, and partners — towards the next 75 years.
Stafford's mission is to improve people's lives and the communities they live in. We achieve this mission by developing and managing retail and hospitality properties that enhance communities and by maximizing financial performance for our tenants, investors and team members.
Our unique value lies in the way we do business: with an entrepreneurial spirit, providing work-life balance, doing what is right, valuing our team, and giving and expecting respect.
Community Relations
---
At Stafford, we're proud to serve the communities where we do business, and feel it is our privilege and responsibility to invest in community service and local organizations. We're proud to be a part of these and other fine organizations that benefit our neighbors.